Some Dreams Are Worth Having
18 of Judith's Filk songs sung and accompanied by Linda Short. Note this is not a proffesional recording

The words are also available in a short booklet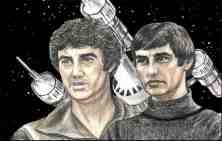 Side 1 :


Side 2:


Prices (Tape only) UK: £3.50, EUR: £3.80, USA/Z1: £4.20/$7, Aus/NZ/Z2: £4.30

(Tape + Words) UK: £4.50, EUR: £5.00, USA/Z1: £5.50 /$10.00, Aus/NZ/Z2: £5.70

I've been listening to this tape in the car lately, and enjoying it quite a bit. Linda Short has a pleasant voice, and I liked her two earlier filk tapes, "Songs of the Seven" and "Ditties from the Edge of the World." Here she sings Judith's songs, some of which will be familiar to you from earlier postings. I remembered "Cruel Is the Snow" with particular fondness and am happy to have a nice recording of it. My other favorites, interestingly enough, are the Vila songs, especially "Song for Kerrill" and "Pack Up Your Troubles." There is a nice mix of songs, both serious and humorous, and dealing with a wide range of characters. Highly recommended for those who enjoy filks.
---

Back to Tapes

To Judith Proctor's ordering Information