Posted 21st of December 2007
Kaldor City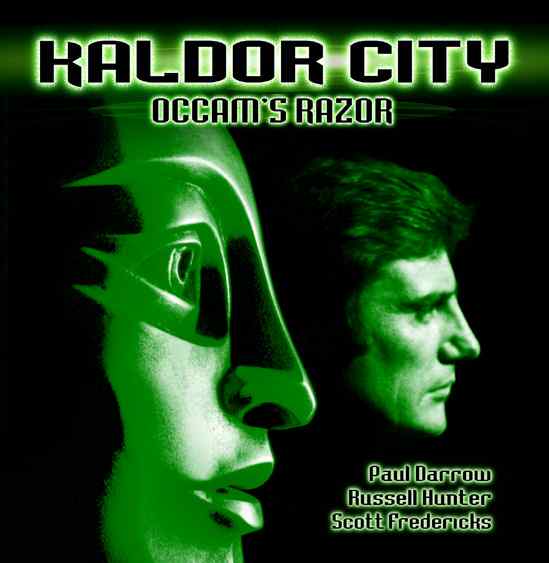 Cover of the first CD.

Paul Darrow has recorded the role of Kaston Iago for CDs in the new 'Kaldor City' series. This series follows on from the well-known Dr Who story 'Robots of Death' which was written by Chris Boucher who also wrote the follow-up novel 'Corpse Marker'.

Scott Fredericks, one of the most popular guest actors ever to appear on Blake's 7, reprises his role as Carnell the psychostrategist.

Three CDs are currently being produced: Occam's Razor written by Alan Stevens and Jim Smith, Death's Head by Chris Boucher and Hidden Persuaders by Jim Smith and Fiona Moore. Each play lasts around 50 minutes.

Occam's Razor's Cast includes:
Kaston Iago - Paul Darrow
Carnell - Scott Federicks (the original actor)
Uvanov - Russell Hunter (he played Uvanov in 'Robots of Death')
Rull - Trevor Cooper (from 'Star Cops')
Cotton - Brian Croucher
Firstmaster Landerchild - Peter Miles
Firstmaster Strecker - Peter Tuddenham
Justina - Patricia Merrick
Producer - Alan Stevens
Directors - Alan Stevens and Alistair Lock
Executive Producer - Chris Boucher
Cover art - Andy Hopkinson

The first CD has been re-released.

Death's Head - the Second Kaldor City CD.
Hidden Persuaders - Third Kaldor City CD.
Taren Capel - Fourth Kaldor City CD.
Checkmate - Fifth Kaldor City CD.
Signing on 1st September With Paul Darrow and Peter Tuddenham.
Signing on 22nd September With Paul Darrow and Brian Croucher.
---