Posted 21st of December 2007
Kaldor City - Storm Mine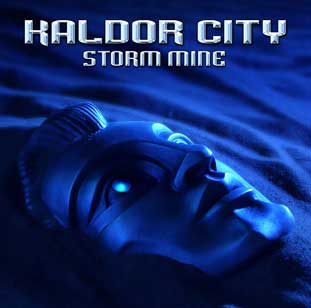 Story Six: Storm Mine
Written by: Daniel O'Mahony
Produced by Alan Stevens
Directed by Alan Stevens and Alistair Lock
Creative Consultant: Chris Boucher
Starring PAUL DARROW, TRACY RUSSELL, PHILIP MADOC, GREGORY DE POLNAY, JOHN LEESON AND PATRICIA MERRICK
"Evolution. No one said it was going to be easy."
Eighteen months after her final confrontation with Iago, Blayes awakes to find Kaldor City in quarantine and herself on a Storm Mine in the Blind Heart Desert. Her companions are three strangely familiar figures, a vengeful spirit-- and a robot with a dangerous secret.
Trapped in a claustrophobic, dreamlike environment, the former terrorist must now undertake a journey which may end in the destruction of her world-- or its beginning.
Kaldor City - Storm Mine uses characters and concepts that appear in Chris Boucher's Doctor Who novel Corpse Marker to tell a mindbending tale of discovery and transformation.
A Magic Bullet Production
Cover design by Andy Hopkinson
Review by Sarah McEvoy More information, including a full cast list on the Kaldor City Web Site.
Occam's Razor - the First Kaldor City CD.
Death's Head - the Second Kaldor City CD.
Hidden Persuaders - Third Kaldor City CD.
Taran Capel - Fourth Kaldor City CD.
Cast Photos (On Kaldor City Web Site).
---