Posted 07th of April 2002
JIM FRANCIS
On 5th October 2001 Jim Francis died.

Jim was a veteran of the BBC visual effects department and contributed effects to an enormous number of episodes of Dr Who and Blake's 7, plus many other BBC shows. Jim co-ran SFX-GB, out of Shepperton Studios, and had recently worked on programmes such as Red Dwarf VIII, The Tenth Kingdom, and Kevin And Perry Go Large, as well pop videos for the likes of David Bowie, Tina Turner, and Red Hot Chilli Peppers.

He is survived by his wife and daughter, and a son and daughter from his previous marriage.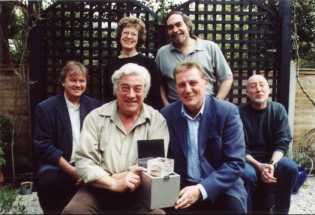 Jim can be seen on the far left of this picture, which is taken from the Together Again: Seven audio tape.
By Sheelagh Wells
Jim Francis was funny, talented and great human being. I knew him from our days together on Blake's 7 and stayed in touch when he left the BBC to form his own company. He was someone for whom I had enormous respect, not only for his work but for his tremendous sense of humour and equanimity when asked to create believable special effects with a budget of 65p, and monsters out of chewing gum and bits of string. Our colourful world has just become a little greyer, I shall miss him a great deal.

There is a longer obituary by Sheelagh on The Kaldor City Site but be warned it is very slow.
---