Blake's 7 - Together Again - Solstice
Review by Judith Proctor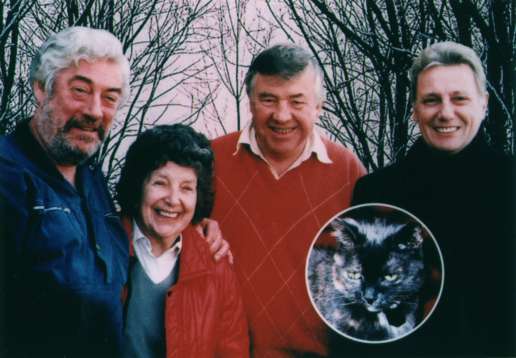 This tape introduces us to Pennant Roberts and Mary Ridge as well as regulars Paul Darrow and Gareth Thomas. Pennant Roberts directed the very first episode of Blake's 7 to be filmed, which was actually part of 'Time Squad'. Mary Ridge directed the last episode of all, 'Blake'.
I found Mary Ridge in particular to be very interesting and it was noticeable how everyone else tended to be quiet when she was speaking. She talked of the problems of filming in Betchworth quarry when it was raining and of the ways in which the weather limited not only the sites that could be used, but also the possible camera angles. In 'Power', she was seriously concerned over safety when filming Gunn-Sar and Avon fighting on the slippery ground. This developed into a general discussion of a director's responsibilities.
Pennant Roberts had rather different problems. Filming at the start of the series, he was faced with budget problems with the sets. Liberator's flight deck wasn't completed when he began work. There were also other set problems to be dealt with. How do you transport a spaceship with a 16 foot wingspan on a truck that can only manage something 12 foot wide?
There are, of course, some very funny anecdotes on this tape. What would a Vere Lorrimer version of Hamlet's soliloquy have been? Listen and find out!
My favourite point comes when the conversation drifts, as Blake's 7 conversations inevitably do, to the subject of bigger and bigger explosions. Mary Ridge turned to Gareth and said: "We know all about people adding to explosions, don't we, Gareth?" The anecdote that follows is a real gem, topped off with Gareth's exclamation of "I didn't realise you knew that!"
There are also discussions about Terry Wogan's comments on Blake's 7, media censorship (so who was watching late-night porn on channel 4?), discussions about who died in the final episode and a light-hearted description of Avon and Tarrant as Starsky and Hutch.
And, of course, if you don't know why Paul was nicknamed Blint, you'll have to buy the tape to find out...
---
---

Back to Tapes

Back to Sheelagh Wells Ordering Information