Blake's 7 - Together Again - Seven
Review by Julia Jones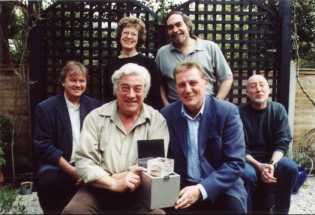 The seventh in the Together Again series, and another wonderful collection of anecdotes and laughs. This time around it's special effects man Jim Francis and writer/script editor Chris Boucher joining Gareth and Paul. More tales of budget woes, and more tales of Vere Lorrimer's enthusiasm for action over plot:-)
I found Chris Boucher fascinating to listen to, not least because he is less diplomatic than most of the previous guests... Once again, this series of interviews is a delight for anyone interested in the "behind the scenes" aspect of the series. Chris has much to say on the writing side, including a quiet complaint that nobody ever goes up to the writer and says, "That was a wonderful script." He needs to see the "Boucher is god" conversations on the Lyst, it would make him feel a lot happier.
Jim Francis has some interesting things to say about the special effects, including confirmation of a certain actor's inability to so much as look at a prop without breaking it.
Gareth and Paul are, well, Gareth and Paul. Some interesting comments from Gareth about Blake, particularly what he says about trying to show the flaws in the man, rather than playing a perfect hero. Ditto from Paul about Avon. There's also hard news from Paul about the proposed film, and it's good to hear the facts rather than speculation.
And to top it off, this tape is ten minutes longer than the earlier tapes - and not a minute of it wasted. A "must buy" as far as I'm concerned.
---

Back to Tapes

Back to Sheelagh Wells Ordering Information