PLAYBOY OF THE WESTERN WORLD
Gareth played Michael James Flaherty - a fat, jolly publican in 'The Playboy of the Western World' by J M Synge at the Royal Lyceum, Edinburgh from 07/28 September 2002.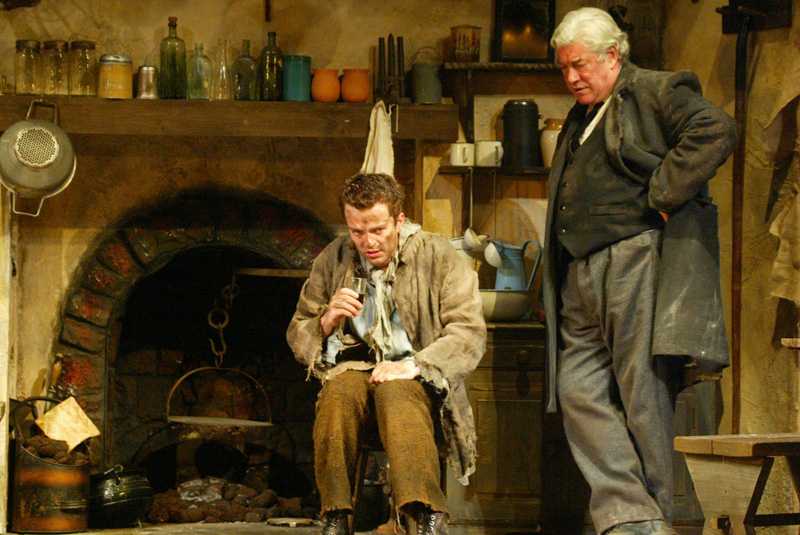 Flyer from the Theatre
The Playboy of the Western World by J M Synge
6 - 28 September 2002

In a good play every speech should be as fully flavoured as a nut or apple - J M Synge

As the Festivals pack up and leave town, and the smoke begins to clear, a shadowy figure strides out of it towards us. It is 1907 on the wind-whipped coast of Mayo, and Christy Mahon won't be a stranger in this town for long.

His fantasic tale of patricide captivates the locals and arouses not fear or revulsion, but jealousy, admiration and lust.

The first performance of Playboy provoked instant rioting around the Abbey Theatre in Dublin by those offended by its satiric and sensuous treatment of the rural way of life; nearly a century on, Ireland is, for better or worse, as tumultuous, romantic and evocative as ever.

Synge, a widely-travelled polymath, never swerved from controversy in his short life: he was a leader of the Irish Renaissance alongside W B Yeats and Lady Gregory and a later play, The Tinker's Wedding, was considered too dangerous to produce at the Abbey, the theatre which he himself helped to found.

Tony Cownie, director last season of The Comedy of Errors, Beauty &the Beast and Miseryguts, has gathered an impressive cast to launch our new season.

They include Patrick Moy as Christy, last seen here in Macbeth, for which he was nominated for a Sunday Times Ian Charleson Award in 2000, Meg Fraser, fresh from sustained success in the critically-lauded Dundee Rep ensemble company, and Gareth Thomas, who was part of the Scotsman Fringe First-winning cast of Moving Objects at the Brunton Theatre last year, as well as Mark McDonnell, Steven McNicoll, Matt Costello, Ronnie Simon, Carol Ann Crawford, Gemma Burns, Louise Bolton and Lyceum Youth Theatre graduate Hazel Darwin Edwards.

The Playboy of the Western World: listings information
Evenings: Tue - Sat, 6 - 28 September, 7.45pm
Matinees: Weds 18 and 25 September, 2.30pm Sats 14, 21, 28 September, 2.30pm Sun 22 September, 2.30pm

Press night Saturday 7 September, 7.45pm
Review from The Scotsman
Synge still has a tale to tell

Andrea Mullaney

LAST time Patrick Moy appeared at The Lyceum, in Macbeth, he was the only cast member without a natural Scottish accent. It didn't do the young Irishman any harm though - he wound up nominated for a prestigious Ian Charleson Award for his performance as Malcolm (as did, incidentally, Jude Law and Emma Cunliffe the same year).

This time round, however, he's in the opposite position, as the only genuine accent in a new production of The Playboy Of The Western World, the play that's gone down in history as one of the most talked-about pieces of Irish drama ever.

That's because it was as much of a farce off-stage as on when it first opened in 1907. Then, outraged patrons at Dublin's Abbey Theatre stormed out and rioted at founder JM Synge's scandalous depiction of earthy country folk and a reference to girls "in their shifts".

Now, most audiences can't quite get the shock value - it's hardly Shopping And F***ing - but it's established as a satirical classic with a few things to say about human nature and our fascination with those who seem to cross the boundaries of taste, behaviour or sense.

Viewers of I'm A Celebrity, Get Me Out Of Here can surely relate.

Moy, who's been based in Britain for some seven years, plays the 'playboy' of the title, Christy Mahon, who comes to town declaring that he's killed his father - a tale that quickly makes him an overnight legend and a wow with the local girls.

Not very nice behaviour, particularly when it isn't even true, but Moy feels pretty sympathetic to his character. "He's had a shit life and it's only when people start telling him he's great that the story becomes outlandish and he ends up believing it himself," he explains.

"He's not an arch manipulator, he feels as if he really did kill his dad."

Moy himself is no Method follower, clearly, relating how he goes back to Ireland as often as possible to see his own parents and his old mates.

Like many of his generation, he headed to Britain for his career, but doesn't seem to bear any resentment at having to go abroad.

"Nah, I was thrilled to bits to come to RADA and to work here. I just wanted to get all the opportunities I could. I mean, I still go back over a lot and do stuff in Dublin, but it's great to be able to come up here and work in different places," he beams.

"I totally fell in love with Edinburgh when I came up here first and just had a whale of a time. It's relaxed but hard- working; quite similar to Ireland in a lot of ways."

But even Dublin itself has changed considerably from the days when Playboy caused a riot. "It's come on in leaps and bounds," admits Moy. "I think there's a sort of a state of mind among certain areas that things are still all right as long as they're not on their doorstep. But then that's the same in a lot of small towns anywhere."

Can audiences ever truly understand the shock the play's first viewers felt, or is the play - while still very funny - more of a period piece? It's a question that Tony Cowie's production has been wrestling with. "I think it was very much to do with the time it was written and the idea that you weren't meant to show ordinary people in the country like that.

"Synge lived for a while in the Aran Islands and he used a lot of the style of talking - translated from Gaelic - for the play, so he was putting something on stage that hadn't been done before," muses Moy.

"It was a risk. But what he created was really ahead of its time. The female characters, for instance, are quite sexually aware and very confident.

"And I think we're doing the end in quite a real way, quite a gruesome and violent way, which people might find quite shocking.

"We're just trying to do it as real as we can and hopefully people will be stirred in the same way as they were back then - not to the point of riots, though!"
Another review from the Scotsman
Thom Dibdin

CONFRONTATION and fun are never shirked in the Royal Lyceum Company's opening production of the Autumn season, although the full humour of the piece is not always realised.

The story of young Christie Mohan, who achieves hero status in a remote rural village after supposedly killing his father, was too much for its first audiences in Dublin, 1907.

It flew in the face of fashionable political ideas by portraying Irish peasants in a realistic, down to earth, manner.

In Edinburgh, 2002, it looks rather more like the ultimate take on the Not in My Back Yard syndrome, writ large and humorous, with language of the most eloquent and elegant variety. From the simple opening lines, when Peegan Mike is discovered writing an order for material for her wedding dress, the language resonates and hums. And in the mouth of Meg Fraser, as this feisty daughter of a publican, it positively soars.

The reason for Peegan's less than joyous attitude towards her impending wedding soon becomes clear, with the arrival of Steven McNicoll as her feckless, spineless simpleton of a second cousin, Shawn Keogh.

The central drive of the play, however, is with Christy Mahon, here given easy and likeable humanity by Patrick Moy. He arrives, a footsore, frightened stranger in the pub, ten days on the road and fading fast.

At first he is treated with all the suspicion you might expect in the tight, insular community. But his blurting confession that he is the son of a landed farmer who has killed his tyrannical father with a single blow, after years of suffering and servitude, is greeted with praise by all there.

Here, in a community of ground-down poverty, is someone who is capable of taking matters into his own hands. And from out of the stuttering, stumbling wretch who first entered, bewildered into the pub, Moy is soon fashioning a strong, capable character.

Compared to Shawn, there's no competition in Peegan's eyes, and she immediately sets about seducing him, not seeing that beneath the surface he is truly simple. Half the girls of the village, including Carol Ann Crawford's wonderfully brazen Widow Quin, fall for him too. If Crawford's accent is more east coast Scottish than west coast Irish, she at least brings an internal truth to her role.

But Christy's downfall is close at hand. Far from killing his father, he has merely wounded him and the arrival of Mahon senior immediately jeopardises Christy's heroic status.

This would be superbly comic stuff if Mark McDonnell were right for the part of Old Mahon. Funny though he is, he simply doesn't have the age on him to be Christy's father. But despite its flaws, and failures of internal logic, there is still magic in a production which rides triumphant on Synge's superbly poetic study of truth.
A third Review
When John Millington Synge's great comedy first opened in Dublin in 1907, it caused something of a riot. At a time when the ideal of rural Ireland had an almost religious significance for romantic nationalists, Synge's portrayal of the people of the far west as a bunch of earthy, lusty sensation-seekers thrilled to the marrow by an act of violence was considered blasphemous and almost treacherous. The fact that the play also represents a huge tribute to the people of rural Ireland - their energy, their wit, their language - seems to have gone relatively unnoticed.

Almost a century on, though, it's that roaring, affectionate energy in the play that keeps The Playboy of the Western World high on the performance repertoire in theatres across the English-speaking world. Set in a dead-and-alive village in Mayo, the action revolves around the arrival of a man called Christy Mahon, who claims to have killed his old father with a mighty blow to the head; and around the startling effect his story has on the women of the parish, including the pub landlord's lovely daughter, Pegeen Mike. It's not only a sensationally funny play but a profoundly sexy one; and one that touches on deep issues to do with patriarchy and rebellion, with the temptations of revolutionary violence and with the subversive erotic appeal of the outsider, the stranger who rides into town.

Tony Cownie's new production stars Meg Fraser - star of the Dundee Rep ensemble for the past three years - as Pegeen Mike and Patrick Moy as Christy. "What I love about this play is that it's poetic, funny, violent and touching," says Cownie, director of last season's Lyceum hits Miseryguts and Comedy of Errors, "and that makes it a black comedy in the truest sense."
---
Back to Gareth Thomas's other roles
Last updated on 07th of October 2001.