Gareth Thomas in Sleeping Beauty
Warning - this write-up wanders all over the place, but does actually include a review of Gareth Thomas in Sleeping Beauty if you read far enough.
---
I'd been wanting to go to Dundee to see Gareth in the pantomime (see link for definition), but had largely resigned it to the 'wishful thinking' category on the grounds of travel time and cost. Then Richard mentioned that he'd worked out how to do it using air miles... Now there's a marvellous man - willing to aid and abet his wife's Gareth Thomas addiction!
Friday
Woke up Friday morning in calm knowledge that we were all going to Dundee for the weekend. Went downstairs to breakfast to be greated by Richard: "There's been a fire at Heathrow airport."

Panic!

Spent most of morning grabbing details from news programmes, Ceefax or anything else that was telling. The fire had started at Burger King at 4.30 in the morning and needed 100 firemen to bring it under control. The fire was mainly in the roof of terminal one - domestic flights, esp British Airways. Gulp. Guess who was flying domestic on British Airways? By lunchtime, things were improving. They were allowing planes to land and departures were supposed to resume around three in the arternoon, albeit with cancellations and delays. A phone call told us that our flight was 'probably' okay, but that delays were pretty well inevitable.

We hadn't time to hang around - we had to leave before the flight was confirmed for certain or we wouldn't get to London on time. Collected youngest sprog from school - luckily it was end of term for him and the day finished earlier than usual. As soon as elder sprog got home from his school, we went and collected dad from work. (Packing was all done the night before)

Drove to Heathrow, collecting updates on the radio whenever there was a news programme. Heathrow didn't look as bad as we'd feared. There was still a lot of water around, and there was emergency lighting in the departures area (and even less in the loos), but things were moving, albeit slowly. There were a lot of people looking terribly tired - some had been there all night. Once we'd confirmed that our flight was still unknown, we sat down and started playing Scrabble. Not the type to panic, my family. The airport staff were giving out free soft drinks and sandwiches as a lot of the shops and cafes had had to shut because of water damamage. We grabbed a selection and carried on with the game of Scrabble. Henry (the 10 year old) managed to to spill Irnbru all over the floor. Grrr.

Eventually we got a departure slot. We were lucky really - it was only an hour late. While checking in, we collected a free Mars bar and a newspaper each, courtesy of WH Smith which had also had to close.

Heathrow to Edinburgh took around an hour. Collected hire car in Edinburgh after argument with hire company who were trying to change rate quoted over phone. They were trying to claim that a two day hire over the weekend cost more than a three day hire over the weekend. Fine, we said, we'll have a three day hire and return it early. We won eventually. We're a bloody minded bunch.

Staggered into Dundee at 11.15. Kids *very* tired. Collapsed into bed with sighs of relief.
Saturday
Before breakfast, I read the family some extracts from the work of McGonagall which Chris Blenkarn had thoughtfully supplied me with. McGonagall was a resident of Dundee and has a deserved reputation as the world's worst poet. A Poem in the style of William McGonagall by Chris Blenkarn about Sleeping Beauty. It takes real effort to be that bad - he probably only managed it because he was so desperately trying to write good verse. The result is totally overblown prose with high tragedy and appalling scansion. It's very funny and the poor man was probably turning in his grave as I read it. (I suspect it is only funny if you like good poetry - you can't appreciate it's full awfulness otherwise). A McGonagall web site.

After breakfast next morning, we went to visit Discovery. Courtesy of a waiter at a restaurant near the boy's wargaming club, and Pat Fenech who'd come up with all sorts of data on Dundee, we had a fair idea of what we wanted to do while we were here. Discovery is the ship Scott took on his first Antartic expedition. She was built in Dundee and was trapped for several years in the Antartic ice, but survived thanks to her impressive hull construction. It's about a metre thick and composed of layers of four different types of wood. There's an extremely good exhibition to accompany the ship and the ship herself is afloat in the dock and well worth visiting.

After that, we ambled through the city and found a carousel right in the centre. I adore carousels. I and the boys promptly took a horse each and went round and round with great enjoyment. Richard, being far too sane and sober for such things, merely watched from the sidelines. Then we took in the McManus art gallery which had an exhibition on the Battle of Camperdown among other things. I'd never heard of it, but I figured that any battle would go down well with the boys. So we now know who Admiral Duncan was and what naval tactics he used. There was some good pottery and glassware there too.

Lunched in the cafe in the art gallery. Dundee seems to have a good line in affordable food. We had several good meals while we were there.

We had several hours to kill before we were due to meet up with Gareth, so we explored the shops. The Wellgate shopping centre has a wonderful clock with animals that move when the hour strikes. The boys were getting tired now, and my knees were aching, so we dived into the public library and collapsed for half an hour's reading. Thus, refreshed, we headed for the theatre. Met a lovely bronze dragon on the way. He's a sculpture in the middle of a pedestrianised street - he's climbing down a lamp-post, and we all fell in love with him. We want one in Poole!

Got to the theatre early, but took the chance for another sitdown in the upstairs bar. Played I Spy and 20 questions and 'I packed my trunk', although in this case, after being through the airport, it became, 'I packed my hand-baggage.' I still want to know how Henry fitted a portable missile launcher in his hand baggage... Half way through a long complicated list of possessions, Gareth popped through the door at the end wearing a long blue tunic decorated with fleur de lys. Gave us a wave and told us he'd catch us later. He told me afterwards that there is so little space backstage that the cast have to go through the public areas of the theatre to get from one side of the stage to the other!

Once the matinee had finished and the crowd of people leaving had thinned a little, I located Chris who was also meeting up with us. I gave her a Space City badge that I'd remembered to bring with me.

Gareth caught up with us a little later, now dressed in mufti. We all grabbed a drink, Gareth had a pint of orange squash for once, because he was working, and then driving home after the show. We chatted about various things. The Merlin thing starts with Merlin in a monastery! The abbot eventually tells him that his destiny lies elsewhere and he goes to join Blaze (that is the correct spelling) and other rebels in the forest. I guess we can add that one to Gareth's score of playing rebels. (makes four in all if you count 'Knights of God' and 'Star Maidens', although the latter only just qualifies)

We went through a print out of the web page which gave me a chance to splat two wrong entries and note changes to a couple of others. I got rough dates for a couple I hadn't been able to place, but even Gareth can't recall exactly when he did various radio plays.

He's still expecting to go to both Neutral Zone and Deliverance as he's nothing that clashes. He's optimistic about a new series of Heartbeat which should pick up the character he plays in an episode of the current series. No new news re Babylon 5. When I saw him last, he said he'd love to do it, but didn't think the chances of getting a green card were very good.

Time eventually caught up with us and Gareth had to go and get changed again for the evening show, so we gossipped among ourselves and then went to take our seats. When booking, I'd been stuck with aisle seats if I wanted to be near the front, but it turns out that in this particular theatre, the front three rows of aisle seats are very well positioned indeed, right up close to the stage. Chris had luckily got a seat next to ours, so we five filled up aisle C.

The show turned out to be excellent. There are pantomimes and there are pantomimes. When me, my husband and both sons are all shouting out 'Oh no you're not!', then you know you're having a great time. The Queen of Darkness (Amanda Beveridge) was superb, delightfully wicked, and positively relishing every boo from the audience. The frog was hilarious, the body language expressing everything. Yes, that *was* a frog. This panto was billed as Sleeping Beauty but in fact, it cheerfully combines Sleeping Beauty, the Frog Prince and the story of the princess who mysteriously wore out a pair of dancing shoes every night, into one combined story. Wonderful fun. The princess was actually played by her understudy on this particular night, but you wouldn't have known. Her arguments with the prince were beautifully timed and as for the bear...

Gareth was exactly what a fairy tale king should be. White hair, lovely white beard (real, not fake), rotund and with a warm smile. Gold boots, claret tights, blue tunic, and red ermine-trimmed robes over everything. (I'm not surprised he said he was hot when wearing all that lot) He got to play the straight man a lot of the time, but he did get some funny bits as well (especially in the second half). He was very convincing as the father who loved his daughter dearly, but was terrified to let her take any risks because of the witch's curse upon her.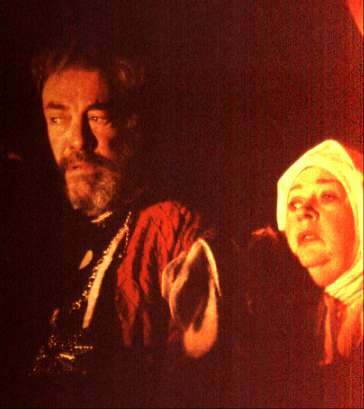 The picture shows Gareth as the King with Janet Michael who plays Mara the nurse. She also stared with Gareth in the recent production of Cat on a Hot Tin roof at the same theatre, where she played Big Mama, when he played Big Daddy.
The sets looked very good, but they did wobble somewhat (maybe that's why they didn't do any flying in spite of thinking about it originally - I don't think landing on some of those sets would have been terribly safe). But, heck, what's a wobbly set to a Blake's 7 fan?
The only break with panto tradition was that the principal boy was played by a man, and the nurse by a woman. I didn't miss the tradition for a moment. This really was a greatly enjoyable evening. Although we only came because Gareth was in it, I'd still have to recommend the show highly even if he hadn't been there. Kelvin, my 15 year old, gave it the ultimate accolade. He asked if there was a Sunday matinee, because he wanted to see the show again and said he'd pay with his own money. (There wasn't a Sunday show as it happens. Even actors get one day off a week.)
I'd hate to be an actor. Working away from home must be a killer after a while. Gareth said he isn't even sure if he can get home for Christmas day. There's a performance Christmas Eve and a matinee on Boxing Day.
Walked back to the Travel Inn and tucked in an exhausted Henry.
Sunday
Sunday - went to look at the Unicorn - oldest British-built warship still afloat, but she's closed in the winter. Didn't look nearly as interesting as Discovery in any case. Just a wooden hulk with all masts removed and a roof stuck on top. Discovery is in excellent condition, masts and all.

Went and visited the Verdent Works which was far more interesting. Dundee's industrial history is based on jam, jute and journalism. This is where Beano and Dandy are published. Dundee marmalade isn't the industry it once was and the jute industry is a fraction of its former self, but the printing hangs on. Anyway, this was a jute museum and a very well presented one it was too. Like Discovery, there was a mixture of video displays, dioramas, interactive things to do, and lots of material, all well thought out, interesting and informative. Wish they'd had 'museums' like this when I was a kid. It managed to keep two very tired boys happy, which is saying a lot. We finished off our session there with a go-cart race (This is the kind of place that believes in allowing its toys to be played with), Richard and myself giving the boys a push start across the cobblestones.

And then, to cut a long story short, we went home.

I'm listing all this lot partly in case anyone else is thinking of going. There's plenty to do in Dundee if you want to go for a weekend. Everything we did was within walking distance of the station. We didn't use our hire car apart from travelling to Edinburgh airport. The pantomime really is enormous fun - if you live within travel range, why not give it a go? There was a full house the night we went, but there's still tickets left on other evenings. The theatre box office number is 01382 223530

Judith
---
Back to Gareth Thomas's other roles
Last updated on 12th of October 1998.