Gareth Thomas in A Midsummer Night's Dream and Dear Brutus
From The BBC By Julie Warburton.
A Midsummer Night's Dream - Review
Showing : Nottingham Playhouse, 8th September - 21st October.

Cast : Gareth Thomas (Blake from Blake's 7), Angus Lennie, Sandra Duncan.

All together now - big hug
This zany combination of bold performances, snappy interaction and a risqué interpretation of Shakespeare's much loved comedy was enjoyed by an appreciative audience.


By Julie Warburton

A Midsummer Night's Dream has long been the subject of experimental staging and innovative direction, sometimes to the detriment of the work itself.
This production, combining a relatively traditional set with radical character interpretation makes for a captivating performance and a successful blend of the portrayal of reality and fantasy.
This aspect of the play is reinforced by the contrasting sets, which transform the scene from an austere and traditional Tudor mansion into a frosty woodland. Centre stage for the dream scene is a raised pond surrounded by silver trees, and a number of hidden entrances through which the various characters emerge, in particular the agile Puck.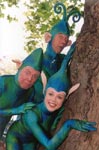 The Midsummer Fairies
Whilst the woodland set is initially lacking something of a magical quality this is quickly overridden by the appearance on stage of the ungodly Puck, who transports the audience into another dimension.
The costume design adds fluidity to the transformation, ranging from traditional Athenian dress to all-in one green camouflage suits for the winged fairies, complete with Tellytubby style head appendages and floral wreaths. The result is a stark contrast between the bedraggled lovers, whose outer garments are discarded as the plot develops and the almost inhuman appearance of the meddling fairies.
The cast consists of an array of talents with a number of well-known faces giving a professional performance studded with moments of ingenuity. The motley crue of tradesmen who amuse the gentility with their rendition of the tragedy of "Pyramus & Thisbe" are a perfect combination of yokel naivety and enthusiastic players. Entertaining from first to last, they provide a welcome distraction to the main plot.
Of particular note were the performances of Martin Herdman playing a larger than life Bottom, Angus Lenny (better known as Crossroads' Shughie McFee) as Snug, and Gareth Thomas's bare-chested Buddha-like representation of Oberon.
The piece de resistance, though, is found in the unnatural quality of the apparently hermaphrodite Puck whose energetic transmission of Oberon's orders bring together the two states of being in an enchanting fashion. Veronica Leer makes the weird and wonderful Puck into a central figure who for me stole the show.
All in all the production provides a good evening's entertainment and is well worth the ticket price.

---
Back to A Midsummer Night's Dream and Dear Brutus
Back to Gareth Thomas's other roles
Last updated on 05th of November 2000.