Gareth Thomas in The Edinburgh News
Edinburgh News 31 Jan 2000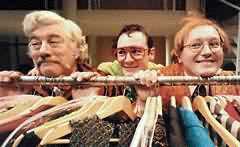 SUITS YOU: Gareth Thomas as Toby Belch, John Paul Hurley as Fabian and Ronnie Smith as Sir Andrew on the set of Twelfth Night
Bang up to fashion for the Bard
Twelfth Night - Brunton Theatre
COMIC farce and a gentle questioning of the nature of identity are the order of the night at the Brunton, where this clear and understandable production plays Shakespeare's comedy for as many laughs as it can.
Forget Elizabethan times, this is set in the 1980s, in the world of high fashion and low morals. Specifically, the House Of Belch, where Lady Olivia is the business-like managing director. Played by Lucy Paterson, she's the sort of fashion executive who would chew the Ab Fab mob for breakfast.
Her PA, Maria, only bears a visual resemblance to the scatter-brained Bubbles.
Vicki Lidelle is hard-hearted and knows how to bite low and hard when it comes to fighting with her fellow employees to keep in Olivia's favour.
Which is not a good thing for Malvolio, the steward. Kern Falconer might take the utmost delight in making him sound like Kenneth Williams at his most simpering, but his is so stuck up that his fall, when it comes, is shattering.
Every fashion executive has her cross to bear - and Olivia's is her uncle Toby. Fat, alcoholic and broke, he hangs around being lecherous with Maria - who reciprocates in kind. Gareth Thomas could not have got much further from his role as Blake in Blake's 7 than this overbearing retired army type, and he obviously enjoys it.
By making the fashion house the focus of the production, director David Mark Thomson has found a visual and entertaining way to highlight the serious side of the play. Twelfth Night has its faults, but balancing comedy with more serious ideas is not one of them.
It is a play about identity. Nothing is ever as it seems. And although the part of Feste, the fool, does not quite fit into the scheme of the fashion house, Keith Warwick makes him endearing enough to be credible. With an excellent line in quick-fire repartee, he provides a commentary to what is going on.
The downfall of Malvolio is the funniest part of the play, but things hot up with the introduction of the love interest.
Duke Orsino, played with bare chest and tight leather trousers by Paul Cunningham, is in love with Olivia. She's having none of it, so when a quick-witted young man called Cesario turns up and falls in with his court, Orsino sends Cesario off to tell Olivia how he feels about her.
Except that Cesario is not a he, but a she, cross-dressing to get employment in Orsino's court.
Viola falls for her new employer. And her disguise is good enough to have Olivia falling in love with her too. Which does not please one Andrew Aiguecheek, a pal of Sir Toby's who has eyes for Olivia as well.
While you have to concentrate to keep up - and many of the Elizabethan puns have not lasted 400 years - this is top quality, thoroughbred entertainment.
Run ends February 12
Thom Dibdin
---
Back to Other Reviews of Twelfth Night
Back to Gareth Thomas's other roles
Last updated on 04th of February 2000.