Gareth Thomas Interview in the Scotsman
The Scotsman 31 Jan 2000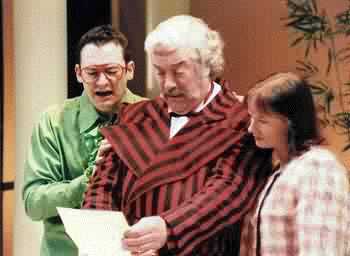 John Paul Hartley, left, Gareth Thomas and Vicki Lidelle turn in a stunning performance in Twelfth Night at the Brunton Theatre.

400 years old, but it's still a glorious twelfth night

IT'S LIKELY that Shakespeare's Twelfth Night was first performed in January 1602; and in many ways, the turn of the century he had just lived through was much more like ours than we might expect. There was a massive economic revolution caused by the sudden rush to exploit the natural wealth of the new world. There was the emergence of a huge wealth gap between those who had a piece of the new economic action and those who did not. There was mounting social tension between those who simply wanted to enjoy this new-found wealth and those moralists who continued to worry about the impact of economic change on social ties and moral values. And among the new generation of urban sophisticates, there was a passionate interest in gender-bending and sexual ambiguity, coupled with a wariness of real sexual love born partly from fear.

Sound familiar? You bet; and it is because of these points of contact between that time and this that David Mark Thomson's new updated production of Twelfth Night generally works so well. This Twelfth Night (with inspired design by Edward Lipscomb) is set in what looks like a hugely trendy health club, all hi-tech lighting and shimmering reflections from the pool.

Against this background, the Duke Orsino emerges as a young, troubled man of wealth and power on a quest for self-fulfilment, his unresponsive lady-love Olivia as a superconfident but emotionally naive young female boss, and her various hangers-on - the waiting-woman Maria in Chanel suit and trainers, the drunken cousin Toby Belch, his upper-class twit of a friend Aguecheek, and the clown Feste - as exactly the kind of retinue of personal assistants, penniless toffs and embarrassing relatives that materialises around many a modern celebrity or internet millionaire.

It's true that the production is less assured in its handling of the heroine Viola and her fierce struggle for new life, although the lovely, intelligent intensity of Susy Kane's performance goes a long way to fill the gap; and it comes further adrift in its dealings with the Puritanical steward Malvolio, played by Kern Falconer as such an outright ass - a Kenneth Williams soundalike in a red plush suit - that the strand of serious meaning in the character is lost.

But Vicki Lidelle, Gareth Thomas and Ronnie Simon make an excellent triple-act as Maria, Toby and Ague-cheek; Keith Warwick's sharp-eyed, softly-spoken Feste has an eerie quality of timeless knowing, particularly in the great songs that punctuate the play; and despite some unevenness in the verse-speaking, the production as a whole goes with a well-drilled, heartfelt swing that speaks volumes for Thomson's skill as a director, and does credit to everyone involved.
---
Back to Other Reviews of Twelfth Night
Back to Gareth Thomas's other roles
Last updated on 04th of February 2000.