Gareth Thomas in Merlin The Magic Begins
Gareth played Merlin's mentor Blaze in a pilot called "Merlin the Magic Begins". This was filmed in early October 97.

This first showing was on November 1st 98.

The decision has been made to go ahead and produce the series, but production has moved from Scotland to New Brunswick in Canada and it is not yet known how this will affect Gareth's participation. he wants to continue in the part and his performance got a good reaction.

The series also stars Merlin is played by Jason Connery and Deborah Moore.

The series will be made by Segull productions a part of Kaleidoscope Media Group in conjunction with Wynn Entertainment.

Out of date press release and pictures by Kaleidoscope Media Group. (None of Gareth)

Note from the director David Winning.
Showing Information
According to Kaleidoscope's web page (which I don't totally trust having seen inaccurate information there before - but on the other hand, they did make the programme), 'Merlin: The Magic Begins' is available to television stations October 28th through November 15th for two runs.

Presumably they mean that's when it will be broadcast in the US. I hope someone will copy it for me. Gareth looked lovely in the stills I've seen.

Whether it will ever get made into a series is anyone's guess. It's been a saga of ups and downs and even if it does get to be a series, there's no guarantee that they'd keep the original cast.

The following is courtesty of the sci fi channel website: (and gives slightly different dates from those previously mentioned)

The Kaleidoscope Media Group announced:
that its two-hour TV pilot Merlin: The Magic Begins will air in syndication between Oct. 19 and Nov. 15. The show has so far been cleared in 59 markets, which represent approximately 62 percent of U.S. TV households, including both CBS and NBC owned-and-operated stations.

Merlin stars Jason Connery, the son of Sean Connery, and Deborah Moore, the daughter of Roger Moore, in a story based on the King Arthur legend. In this version of the Arthur tale, Merlin is a young man who must learn to control his blossoming magical powers while fighting to protect the benevolent forest people against the black magic of the evil Rengal.

Kaleidoscope plans to follow the Merlin movie with a syndicated one-hour TV series that is expected to premiere in the fall 1999.
Footnote from Judith - Kaleidoscope have promised things about a series before and they didn't come to pass, so I'd take this announcement with a large pinch of salt. There's also no guarantee at all that Gareth will retain his part if the series does come to pass. Last time I spoke to Gareth, he'd had no news regarding 'Merlin' for a long time.

There is an excellent review by Ruth Kenyon on her website.
Pictures
These are from the original filming and editing

Each expands to a larger image

This last picture comes in two versions, the one above and this one which was actually shown: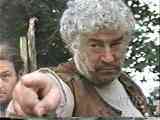 Merlin: The Magic Begins - Info and Station List
Merlin: The Magic Begins is a syndicated two-hour TV movie that is also a pilot for a possible series in fall 1999. It stars Jason Connery (Robin of Sherwood) as Merlin. Also starring is Deborah Moore (Roger Moore's daughter) and Gareth Thomas (Blake's 7).

As a disclaimer, I have not seen it and have seen little info on it, but it has been in the works for a year or so with occasional mentions in the British TV Magazines like TV Zone and Dreamwatch. It is of interest to fans because of the involvement of Jason Connery and Gareth Thomas and I believe it is mainly a British production.

Director: David Winning

Cast: Jason Connery, Deborah Moore, Gareth Thomas, Graham McTavish, Fiona Kempin, Gordon Hall, John Woodford, Chick Allen, Finn Begbie, Peter Begbie, Rosie Begbie, Katrina Boyd, Michael Boyd III, Andy Bryden

Station List

The following is a list of US stations and the specific dates and times they will be airing Merlin: The Magic Begins.

This list came from one provided by KMG. If noted as "Airdate Unknown", that station will be airing it sometime before the end of November. If noted as "11/15/98-11/29/98", that station will be showing it sometime during those dates. These may not be accurate, so check your local listings or an online listings service such as www.tvquest.com. For example, the info I was given about the Chicage station was wrong. What is listed here is correct (according to the tvquest site).
City
Station
Date Time
WEB-TV
100+
11/15/98-11/29/98
AIN
11/18/98 9:00pm 11/22/98 12:00pm
AMERICA ONE
GE-3/TR 24
11/20/98 8:00pm 11/20/98 2:00am
ALBANY, GA
WFXL
11/18/98 12:00pm
ATLANTA
WSB
11/14/98 1:30pm
BALTIMORE
WMJF
11/15/98-11/29/98
BATON ROUGE
WBTR
10/31/98 8:00pm 11/15/98 8:00pm
BIRMINGHAM
WVTM
Airdate Unknown
BOISE
KTVB
11/15/98 12:00pm
BOSTON
WNDS
11/29/98 12:00pm
BOWLING GREEN
WGRB
10/25/98 9:00pm
BUFFALO
WNYO
11/25/98 4:00pm
CHARLOTTE
WAXN
10/25/98 3:00pm 11/07/98 2:00pm
CHICAGO
WCIU
10/26/98 7:00pm 10/31/98 4:00pm
CLEVELAND
WAOH
11/14/98 - 11/28/98
COLORADO SPRINGS
K0AA
Airdate Unknown
COLUMBUS, OH
WCLL
11/22/98 8:00pm
DALLAS-FT.WORTH
KXTX
11/04/98 7:00pm
DAVENPORT
KWQC
Airdate Unknown
DAYTON
WMVC
10/24/98 3:30pm
DENVER
KTVD
Airdate Unknown
DES MOINES-AMES
WHO
10/25/98 1:30pm
DERRY, NH
????
10/24/99 9:00pm 11/11/98 8:00pm
DETROIT
WADL
11/02/98 9:00pm
EL PASO
KTSM
Airdate Unknown
EUGENE
KEVU
11/15/98-11/29/98
EVANSVILLE
WCJT
11/15/98-11/29/98
FLORENCE
WWMB
10/23/98 7:00pm 11/13/98 1:00pm
FORT MYERS
WBBH
11/01/98 1:00pm
FT. SMITH
KSBN
Airdate Unknown
GREEN BAY
WACY
11/15/98 2:00pm
GREENSBORO
WXIV
10/24/98 9:00pm (repeat TBA)
GREENVILLE
WYFF
11/01/98 2:00pm
HARTFORD
WTNH
10/23/98 8:00pm
HUNTSVILLE
WYLE
10/26/98 9:00pm
HOUSTON
KHTV
Airdate Unknown
INDIANAPOLIS
WISH
Airdate Unknown
JACKSON, MS
WBMS
10/30/98 9:00pm
JACKSONVILLE
WTLV
11/22/98 1:00pm (repeat TBA)
JOHNSTOWN
WNPA
11/15/98-11/29/98
KNOXVILLE
WBXX
11/07/98 3:00am
LAFAYETTE, LA
KATC
11/14/98 12:30pm
LAS VEGAS
KCNG
11/01/98 8:00pm 11/15/98 8:00pm
LEXINGTON
WYMT
Airdate Unknown
LITTLE ROCK
KASN
11/28/98 4:00pm
LOS ANGELES
KTLA
11/08/98 9:00pm 11/15/98 12:00pm
KCAL
Airdate Unknown
LOUISVILLE
WBNA
10/29/98 8:00pm 10/31/98 3:00pm
MEMPHIS
WBII
11/07/98 8:00pm
MIAMI
WFOR
10/31/98 12:00pm
MINEAPLS-ST. PL
WCNM
11/15/98 - 11/29/98
MOBILE-PENSCOLA
WFGX
10/31/98 3:00pm 11/29/98 12:00pm
NASHVILLE
WTVF
10/23/98 2:30am
NEW ORLEANS
WHNO
11/15/98-11/29/98
NEW YORK
WABC
11/08/98 2:00pm
NORFOLK
WAVY
Airdate Unknown
ORLANDO
WFTV
Airdate Unknown
PALM SPRINGS
KPSP
11/15/98-11/29/98
PADUCAH
KQTV
10/31/98 8:00pm 11/15/98 2:00pm
PHILADELPHIA
WGTW
11/08/98 7:00pm 11/11/98 9:00pm
PHOENIX
KUSK
11/15/98 - 11/29/98
PITTSBURGH
WBPA
11/15/98 - 11/29/98
PORTLAND, OR
KWBP
10/24/98 8:00pm 11/15/98 2:00pm
RALEIGH-DURHAM
WKFT
Airdate Unknown
RAPID CITY
KOTA
11/15/98-11/29/98
RENO
KOLO
11/22/98 11:30pm
RICHMOND
WUPV
Airdate Unknown
ROANOKE
WRDL
Airdate Unknown
ROCHESTER
WBGT
10/25/98 1:00pm
SACRAMENTO
KBTV
11/15/98-11/29/98
SALT LAKE CITY
KUWB
10/30/98 7:00pm
SAN ANTONIO
KJRG
11/15/98-11/29/98
SAN FRAN-OAK-SJ
KICU
11/01/98 12:00pm 11/14/98 12:00pm
SANTA BARBARA
KSTV
11/07/98 8:00pm
SAVANNAH
WJCL
11/14/98 1:30pm
SEATTLE-TACOMA
KTZZ
Airdate Unknown
SHREVEPORT
XCVS
10/31/98 7:00pm 11/04/98 7:00pm
SOUTH BEND
WSBT
10/31/98 12:00pm
SPOKANE
KALY
Airdate Unknown
SPRINGFIELD, MO
KOJQ
11/14/98 3:00pm 11/21/98 8:00pm
ST. LOUIS
KPLR
10/29/98 2:00am
TALLAHASEE
WGVP
10/30/98 12:00pm
TAMPA
WWWB
10/23/98 2:00am 11/07/98 2:00pm
TOLEDO
WNTG
11/07/98 4:00pm
TUCSON
KVOA
11/14/98 12:00pm
WASHINGTON, DC
WJAL
11/07/98 12:00am
WEST PALM BEACH
WTCN
11/07/98 12:00pm 11/21/98 9:00pm
Last updated on 30th of December 2003.