Paul Darrow
PAUL DARROW was born on the 2nd May, 1941 in Surrey, educated at the Haberdashers' Askes School and studied drama at the Royal Academy of Dramatic Art.

Paul is married to the actress Janet Lees Price and they live in a small town in West Sussex with their Dachshund, Tilly.

Apart from his work, Paul is interested in Criminology (he has written a script based on a Victorian murder trial), good food and wine, military history, the cinema, classical music and is a keen supporter of Manchester City Football Club.

Paul is also an author and with the continuing success of "BLAKES 7", has written a novel of the early life of Avon. The book, "AVON A TERRIBLE ASPECT", was published in January 1989.

Recent projects have seen Paul providing voices for and writing the novelisation of "THE EYE", a CD-ROM game produced by the rock group Queen in 1997.

Paul also has his own corporate entertainment company 'Private Drama'.

Paul has appeared with most of the leading repertory companies nationwide, including four seasons with the Bristol Old Vic, and in London's West End.

And Guards! Guards!.

Apart from 51 episodes as Avon in Blakes 7, Paul has appeared in more than 200 television programmes.
RADIO
The Silver Sky - as Paul Baxter (1980).
Not A Penny More, Not A Penny Less - as Stephen Bradley in 7 episodes (1980).
Wind In The Willows - as Badger.
Country Of Afternoons - as Giovanni.
The Sevenfold Crown - as Avon
The Syndeton Experiment - as Avon
FILMS
Mr Jericho - directed by Sidney Hayes.
The Raging Moon - directed by Bryan Forbes.
Port of Secrets - directed by Egil Eikuil (Scandinavia).

OTHER THINGS
Paul opens a garden party.

Web Chat Paul took part in a web chat on beeb.com on 29th November 1999. Here are some edited extracts, reproduced with permission.

Paul Darrow at the Sidgwick Room Newnham College, Cambridge: 30th October 1981. Transcripts of the event.
NOTES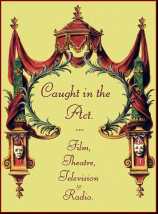 The above information is only a selection of Paul's work. For more details, reviews etc, you need ... "Caught in the Act".

A detailed biography of Paul's work available from The Avon Club.

And here:


Most of the information on this page is provided by The Avon Club. And from the "GATHERING" a listing of Paul Darrows credits written in 1981 by Pat Jenkins.
---
Visited

times since 1 Jan 2004.

Last updated on 21st of December 2007.