Paul Darrow Opened a Garden Party
The following is from the East Sussex County Times (Horsham Edition) - 18th August 2000.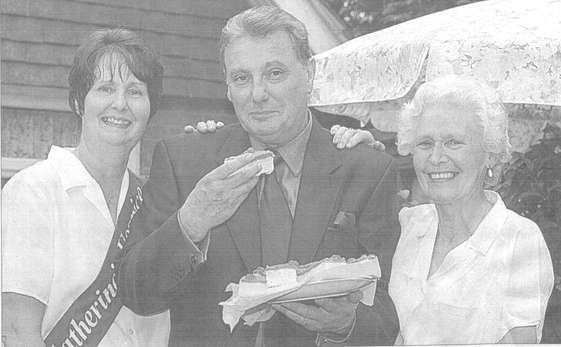 Sweet tooth sci-fi star - from left, Phyl Cooper, Paul Darrow and Vivienne Baylie enjoy the cakes at the garden party.
Sci-fi hero is star of special day to help work at hospice
SCI-FI star Paul Darrow, best known for his role as Avon in the cult show Blake's Seven, opened a traditional garden party and fete in Billingshurst.

Stalls with cakes and jams, tombolas, a raffle, musical entertainment and beautiful weather helped to make the wonderful English afternoon.

The eveny was held in a Silver Lane garden in aid of St Catherine's Hospice by the Friends' fund-raising group in Billingshurst.

"It was very successful, we had Paul Darrow open it and he spent most of the day there - a good time was had by all," said Alan Needham of the Hospice.

The party was held in Vivienne Baylie's garden for the 12th year running. She said they day was "absolutely incredible" and is already looking forward to number 13 next year.

Derek Golledge, a local artist, painted during the afternoon to the sound of a harp and organ which helped create a wonderful atmosphere at the event which raised just under £2,000.

Although St Catherine's Hospice is situated in Crawley, many patients come from the Billingshurst area and they are either treated at the hospice or at home by specialist community sisters. The hospice is a specialist palliative care centre giving people with terminal illnesses the chance to live as fully as possible.

But it only recieves around 20 per cent of the money needed to provide its service from central government so it relies on voluntary contributions for the rest.
---
Last updated on 06th of January 2001.