Posted 21st of December 2007
Louise Jameson on Actor Speaks 5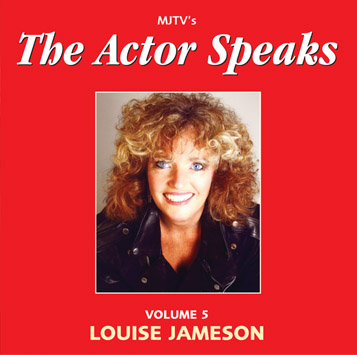 The Track Listing: (1) Interview: "Out of The Ordinary": Producer Mark asks Louise about her childhood and how she got into acting. They also discuss her major TV appearances as Leela in Doctor Who and Rosa in Eastenders, as well as Tenko and Bergerac
(2) 'I Am There': A poem by Mark J Thompson, read by Louise
(3) Q & A: Louise answers questions sent in by listeners, about Dr. Who, Tenko, Omega Factor, Eastenders and life in general!
(4) Photos: Louise talks about 6 rare photos that appear in the CD booklet.
(5) 'Sins of the Mother': A new serious play from MJTV's 'Soldiers of Love' audio series universe! Why is the all powerful Connie driven to visit the mysterious medium? What terrible shocking secrets do they both hold? Connie - Louise Jameson / The Medium - Mark J Thompson
(6) Interview: "Dyslexia": Louise talks passionately about the issue of dyslexia
(7) Interview: "Tenko - Carte Blanche": Producer Mark talks to Louise about her time in the BBC TV series "Tenko" about a group of women in a Japanese prisoner war camp in the 1940's.
(8) 'Hot Flush': Louise reads a couple of extracts from the one woman play 'Hot Flush' written for her by Helen Goldwyn
(9) 'Goblin Market': Louise talks about her favourite poem, 'Goblin Market' by Christina Rossetti and reads extracts from the piece.
(10) 'Sea of Tranquillity': A short poem by Patrick Chapman
(11) Puck's Last Speech: Louise rounds off the CD by reciting the first speech she ever learnt from "A Midsummer Nights Dream".

---