Travis: The Final Act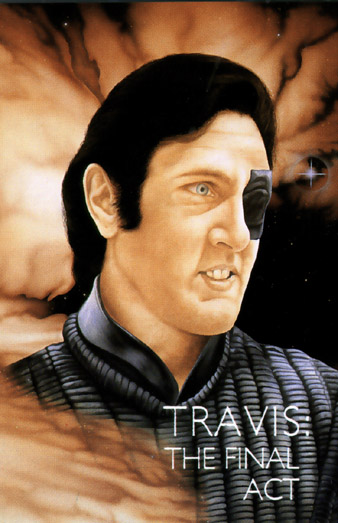 Short Review by Judith Proctor.
A documentary style tape exploring Travis' background, career and motives. Features interviews with both Brian Croucher and Stephen Greif as well as Chris Boucher (script editor) and David Maloney and is narrated by Peter Miles who played Secretary Rontane.

I'm not a great Travis fan, but I found this tape very interesting to listen to and have played it several times. Some of the tape consists of extracts from relevent episodes. This is in no way a badly assembled patchwork of bits, but a well put together exploration of the character. There's a nice colour picture of Travis 2 on the box as well. Playing time is over 90 minutes.
Long Review by Chris Orton
"He's probably mad, but certainly not a fool" Servalan, Trial

Not before time, a new piece of quality merchandise associated with one of Britain's most undervalued science-fiction television programmes has finally been produced. Unlike Doctor, the Star Treks and Red Dwarf fans, Blake's 7 fans have not had a great deal of goodies produced for them. Now, at last, something really very good has quietly found it's way into the world. The item to which I refer is a 92-minute audio cassette, entitled, Travis: The Final ACT.

The tape has been written and comiled by Alan Stevens, who has innovatively created a drama documentary based upon the life, times and creation of the character who was the second deadliest enemy of the Liberator crew. Combining actual sections of dialogue from the TV series and many contributions from both the individuals who had a part in the creation of Travis and the two actors who played him, Travis: The Final Act is an original idea and a treaty for all fans of B7.

Presented in two parts, Travis: The Final Act opens with the character of Rontane (played here superbly once more by Peter Miles) seeking out information about the origins of Travis, following Supreme Commander Servalan's decision to choose the unorthodox officer to hunt down Blake. Rontane accesses a Federation computer which then proceeds to give him the facts that he requires, via a series of interviews with the likes of B7 Producer David Maloney, script editor Chris Boucher, Steven Grief and Brian Croucher.

The tape traces the history of Travis, from both a factual and fictional point of view. David Maloney discusses the ideas surrounding the casting of the actors and the general production of the series, but Chris Boucher's contribution is by far the most interesing part of the tape. Boucher talks about what made Travis Travis, and looks at his motives and beliefs. On of the main points highlighted by Boucher is that Travis' main reason for being is because he is a soldier. He has been trained to be a soldier, and that this is all that he knows: that his only family is the military. Another interesting idea concerns his relationship with Servalan - for despite all of the disagreements and conflict between the pair, Chris Boucher tells us that Travis could never have killed the Supreme Commander because he simply could not kill a superior officer due to the type of person that he was.

Both Steven Grief and Brian Croucher talk about playing the role, and it is the latter who makes the largest contribution of the two, quite ptobably because more happened to Travis in Season Two than it did in Season One. Croucher seems to have enjoyed playing Travis, and gives some interesting anecdotes about his time in B7. During the second season we see that the incompetance of Travis leads to his dismissal, trial, and his eventual short-lived alliance with the Andromedans. Boucher likens his removal from service to losing ones family, and adds that his ultimate betrayal of humanity could merely have been a sure way of destroying himself.

Overall, the tape is a well-produced, entertaining look at one of science-ficiton's most interesting and engaging villains. Rounded off by a great score by Alistair Lock and some nice Pete Wallbank sleeve artwork, Travis: The Final Act is a must for any fan of Blake's 7.

For further information regarding Travis: The Final Act, and Alan's B7 audio drama The Mark of Kane, contact:
Alan Stevens
62 St. White's Road
CINDERFORD
GLos.
GL14 3DQ
U.K.
This tape is sold out sorry.
---

Back to Tapes

Ordering from Judith Proctor