The True History of Faction Paradox - Words From Nine Divinities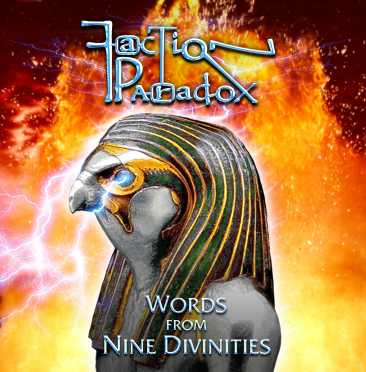 The True History of Faction Paradox vol. IV: Words from Nine Divinities
"Probably the most essential episode yet... the merciless Words slips by in what seems like only a few minutes."
--DeathRay Magazine, November 2008
by Lawrence Miles
Directed by Alan Stevens and Alistair Lock
Producer: Alan Stevens
starring GABRIEL WOOLF, WANDA OPALINSKA, JANE LESLEY, TRACY RUSSELL, JET TATTERSALL,  PETER HALLIDAY,  CHRIS TRANCHELL, PHILIP MADOC
and JULIAN GLOVER as Upuat
As Sutekh makes a bid to seize the throne of the Osirian Court, Justine and Anubis put their plan into motion. But is the power of Horus himself enough to prevail against the might of the Destroyer?
On the Homeworld, the War King has decided, against the wishes of half the Council, to bring Faction Paradox back into the fold-- a move which may play directly into the hands of the maverick hybrid Lolita, and bring chaos to the Great Houses...
Faction Paradox was originally created by Lawrence Miles for the BBC's acclaimed  Doctor Who series of novels.


See also Coming to Dust - the first Paradox CD.
See also The Ship of a Billion Years - the second Paradox CD.
See also Body Politic - the third Paradox CD.
---