The Audio Adventures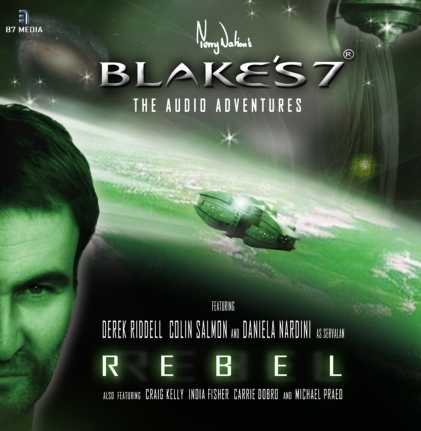 Twenty-five years since its bloody climax, the much loved TV science fiction series BLAKE'S 7 returns, re-imagined as a series of original audio adventures produced in association with the SCI FI Channel.

In a bold new re-interpretation of Dalek creator Terry Nation's original Seventies cult series, Derek Riddell (No Angels, Doctor Who) heads an all-new cast as the eponymous rebel leader Roj Blake. Colin Salmon (best known for his film roles in James Bond, Alien vs Predator and Resident Evil) assumes the iconic role of Kerr Avon with Daniela Nardini (This Life) as the rebel Blake's arch nemesis Servalan.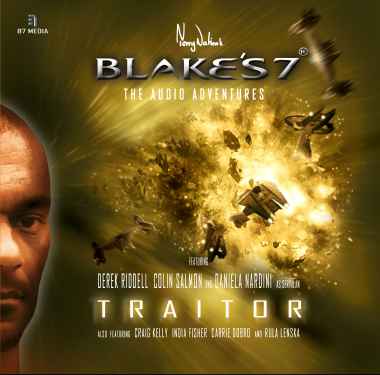 Other cast members include Craig Kelly (Queer as Folk) as Servalan's henchman Commander Travis, Carrie Dobro (Babylon 5: Crusade) as the gun-toting smuggler Jenna Stannis; Michael Praed (Robin of Sherwood) as the murderous Soris, Doug Bradley (Hellraiser) as the duplicitous Nico and guest starring India Fisher (Doctor Who) as Lora Mezin, a federation officer forcibly conscripted to the rebel cause by Blake.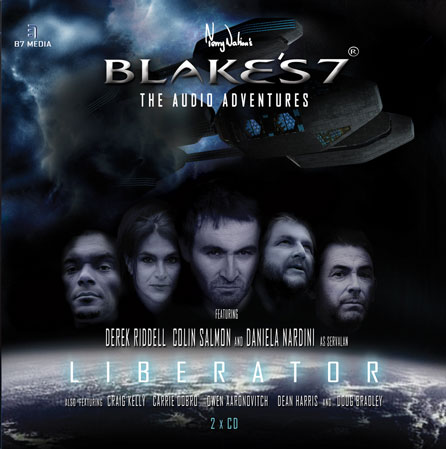 Broadcast on the SCI FI Channel broadband player during spring 2007 (as 36 x 5 minute episodes), this audio trilogy was written by "original series" Doctor Who writers Ben Aaronovitch and Marc Platt with Star Trek writer James Swallow. Each release contains an extended "director's cut" and the final disc of the trilogy LIBERATOR boasts an impressive array of extras including in-depth interviews with the cast, writers, producer and director, a blooper reel along with a special 15-minute documentary exploring the past, present and future worlds of BLAKE'S 7.
The BLAKE'S 7 audio adventures are compelling radio drama and an absolute must for aficionados who love good science fiction.
See also When Villa Met Gan
See also Point of no return / Eye of the Machine
See also Blood & Earth / Flag & Flame
| | |
| --- | --- |
| Title: | Blake's 7: The Audio Adventures |
| Production Company: | B7 Productions in association with the Sci-Fi Channel |
| Writers: | Ben Aaronovitch, Marc Platt and James Swallow |
| Producer/Director: | Andrew Mark Sewell |
| Executive Producer: | Simon Moorhead |
| Format: | 3 x 60 minutes CDs (audio Book) |
| Duration: | 3 Hrs |
| | |
| Episode 1 Rebel | Release Date: July 4th |
| Episode 2 Traitor | Release Date: August 6th |
| Episode 3 Liberator | Release Date: September 3rd |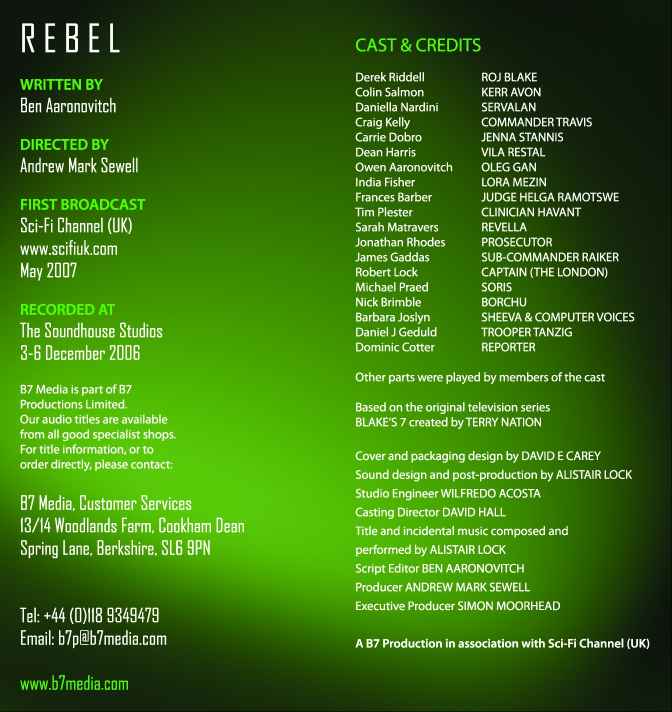 ---