Books writen by Blake's 7 Editors / writers
---
Chris has written two Dr Who Books (one with Carnell) and two Star Cops Books.
Corpse Marker
Chris Boucher's new Dr Who novel, 'Corpse Marker', is a sequel to the Tom Baker story 'Robots of Death', which Chris scripted in 1976, and Carnell (the psycostrategist) makes an appearance.

Available from:

Last Man Running
Another Dr Who Novel.

Available from:

Instinct For Murder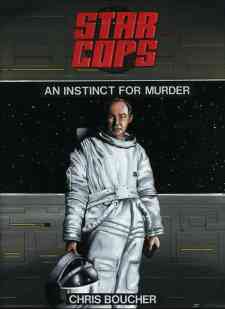 'An Instinct For Murder', Chris Boucher's novelisation of the first episode of his mini-series 'Star Cops' is now available in print for the first time.

Featuring a full colour cover by Jason Fletcher and interior art by Kevin Davies, Kathryn Andersen and Andrew Williams, this is a novel that will appeal to both those who watched Star Cops and those who missed it. (Click on the cover for a more detailed version)

Chris Boucher was script editor for the entire series of Blake's 7 and wrote scripts for both Blake's 7 and Dr Who. Many people have found points of similarity between Blake's 7 and Star Cops. These similarities show up more in later episodes of Star Cops as more characters are introduced (and Chris is willing to have his second novel also published as a fanzine if there is sufficiant interest in this one), but this first novel is worth reading as an excellent piece of detective science fiction in its own right.

Sold Out.
Little Green Men and other stories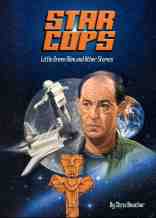 This is the Second set of Novelisations from Star Cops.

Sold Out.
---
Tanith who wrote the script for Sarcophagus and Sand writes many books, including this Blake's 7 Avatar:
KILL THE DEAD
Tanith Lee, 1980 (ISBN 0-0996-6360-0)

This is the story of Parl Dro, the ghost slayer (look at Paul Darrow's autograph and you will see where the name comes from). His eventual sidekick, Myal Lemyal, bears a strong resemblence to Vila. Although I don't like all of Tanith Lee's books, I did enjoy this one. It has a stong plot and an extremely novel twist at the end. - Judith

The earliest and best- known example of this sort of thing. A fantasy featuring ghost- killer Parl Dro and minstrel and pickpocket Myal Lemyal, with plot elements suggestive of "Sarcophagus," one of the two B7 episodes written by Lee herself. Parl Dro is plainly an Avon clone, and his name is said to derive from Paul Darrow's scribbly signature. Furthermore, the book is dedicated to "Valentine," P.D.'s middle name. Fans generally see Myal as Vila, but in this case the resemblance is less obvious. - Sarah Thompson

Tanith Lee wrote the B7 episodes "Sarcophagus" and "Sand."

Available from:

Amazon Books (hard to find)

---
---
Last updated on 12th of March 2007.