1972 Country Matters: The Watercress Girl Gareth plays Frank Oppidan a wood worker who romances two women, in rural England.
8 Dec 1974 David Copperfield Gareth plays Edward Murdstone, David's step father, and succeeds in creating a thoroughly nasty charcter.
29 Dec 1975 How Green Was My Valley. The fiery minister the Rev Mr Griffith (Rev Mr Gruffydd in the book) one of the leads.
1 Sep 1976 Star Maidens Gareth played Adam.
24 Sept 1976 VICTORIAN SCANDALS "A Pitcher of Snakes" Gareth Thomas plays author William Makepeace Thackeray in Granada's VICTORIAN SCANDALS play 'A Pitcher of Snakes' - the story of Thackeray's relationship with his best friend's wife.
Gareth portrays the writer Thackery both as a young and an older man.
10 Jan 1977 Children of the Stones Creepy and very memorable children's drama serial. Gareth plays astro-physicist Professor Adam Brake, widowed father of the lead boy. He investigates a mysterious stone circle with his son in 1970s England. This was filmed at Avebury in Wiltshire.
12 Apr 1977 Gotcha. On his last day at school, a 'no hope' 16 year old pupil holds his teachers hostage using a motor-bike petrol tank as a bomb.
2 Jan 1978 Blake's 7 Gareth played Roj Blake in 28 of the 52 episodes, and also played 2 clones of Blake and a computer image of Blake.
12 June 1979 Twelfth Night (RSC at Stratford) he played Orsinio.
6 Aug 1979 Othello (RSC Stratford) Gareth played Montano briefly then Cassio, he undertook this role as Cassio in only four days when the original actor playing Cassio (James Laurenson) dislocated his kneecap. Previous to his role as Cassio, he briefly played Montano. This picture is of Montano.
10 Oct 1979 Anna Christie Gareth played Matt Burke an Irish stoker.
1980 Hammer House of Horror: Visitor from the Grave (Made by Hammer Films for ITV, 1 hr). Horror anthology series. In this episode, Gareth plays Richard, the accomplice in a con trick. A woman is tricked into thinking she has committed a murder, and is being haunted by the ghost of her victim. Gareth's character impersonates a policeman, and a mysterious Indian guru called "Swami Gupta Krishna" who is in this picture.
1982 The Citadel: Period medical drama, based on a novel by A.J. Cronin. Gareth plays Dr. Philip Denny, an alcoholic coming off the bottle.
8 July 1983 Shades of Darkness: Bewitched Gareth plays Owen Bosworth.
11 Oct 1984 Morgan's Boy Gareth plays Morgan Thomas, a Welsh hill farmer struggling with the help of his nephew to keep his home in the ecomonically desperate 1980s. Excellent but depressing. This is probably Gareth's best work to date and he was nominated for a BAFTA (British Academy Film and Television Awards) award for it. He himself describes it as probably his favourite part.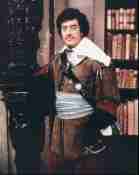 17 Feb 1985 By the Sword Divided: series II: Costume drama series, set during the English civil war. Gareth played the part of Major General Daniel Horton, one of Cromwell's soldiers (a Roundhead) - and a lover.
6th Sep 1987 Knights of God Gareth plays Owen Edwards, a Welsh rebel leader. The series is a sort of retelling of the Arthurian saga set in 2020 after a militant order, the Knights of God, have taken over England and are trying to stamp out the resistance led by Arthur and Edwards.
25 Oct 1989 King Lear Northcott Theatre, Exeter. Gareth played Lear.
16 June 1989 After the War Gareth plays an artist called Guy Falcon
24 Jan 1991 TV Interview on Scene Today We'll leave the caption to you...
Nov 1995 Visions 95 con Chicago, the second con with Paul Darrow.
11 Apr 1996 Pygmalion by George Bernard Shaw. Gareth played Colonel Pickering.
early 1997 The Witch's Daughter Gareth has a minor part as a lobster fisherman.
10 Jan 1997 Jekyll and Hyde By David Edgar based on the story by Robert Louis Stevenson. Gareth played Gabriel Utterson.
14 May 1997 Cat on a Hot Tin Roof by Tennessee Williams, Gareth played Big Daddy.
17 July 1997 TV Interview And Now Over to Our Friends in Wales
Early Oct 1997 Merlin The Magic Begins Gareth played Merlin's mentor Blaze in a pilot called "Merlin the Magic Begins".
25 Jan 1998 Heartbeat Popular period drama about a policeman in 1960s Yorkshire. Gareth plays a farmer, Nathanial Cleghorn.
20 Mar 1998 Neutral Zone '98 Newcastle Upon Type, SF con. Gareth is becoming a regular at this con, it is the fourth time he has done it.
27 Mar 1998 Deliverance Stoke on Trent, Blake's 7 convention, Gareth is with Stephen Greif (Travis I)
18 Sep 1998 The Crucible by Arthur Miller. Gareth plays Deputy-Governor Danforth.
Photo by Mark Douet.
4 Feb 1999 Hosts of Rebecca Gareth Thomas is played Tomos Treherne (the narrator/minister) in an adaptation of a Welsh novel by Alexander Cordell.
Early 1999 TV Adverts for Warburton's Bread Gareth plays the father of an ice skater from Yorkshire.