Recomended Fanzines for Vila
Renaissance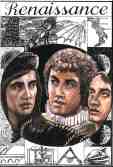 What would Vila have been like if he had been born in another time and place? What of Avon and Blake? 'Renaissance' places him as Vito Ricotti, a yound sheperd boy with a gift for sketching, who becomes apprenticed to Cervello D'Avonci (a blend of Avon and Leonard da Vinci). Blake is incarnated as the patriot Machiavelli and the stage is set for a replaying of the eternal story between the three of them. This is an excellent story by Diane Holland who loves both Renaissance Italy and Blake's 7. Don't be put off by the setting - the story works.

Last Stand At The Edge Of The World
You always knew Vila and Kerrill belonged together. Here, in this novel set after Gauda Prime, Vila meets up again with the woman he loves. After Blake's death, Avon has withdrawn into himself. It's up to Vila to take charge and to help Kerrill and the people of Keezarn.
The Haunting of Hadderon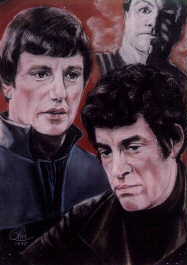 by Lillian Sheperd

This 31 page story much beloved by Avon and Vila fans is printed as part of Star 3. Left to die in the desert, Avon and Vila struggle to survive. Lots of angst.

Last updated on 21st of December 2007.