Star Three
A Blake's 7 genzine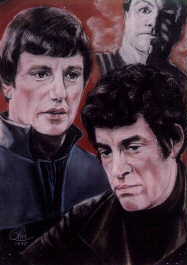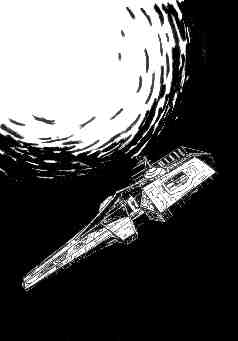 The inside cover picture from Star Three - by Will Blight

Editor: Judith Proctor
Publisher: Waveney
Date: 1996

Fiction:
Lillian Shepherd, "The Haunting of Haderon" (S1; A-V; reprint of story printed in Liberator 5 in 1979 and as a standalone in 1982)
Vega, "Seven Days to Destiny" (S1; gen A/ocf)
D. C. Morris and S. Barrett, "Economy Drive" (S1; humor)
Richard Self, "Alter Ego" (S2)
Neil Faulkner, "Wit and Wisdom of the Dead" (S2)
Judith Proctor, "Amagon" (S3)
Vega, "Transition in Three Stages" (S3)
Loulou Harris, "I'm Not Blake" (S3; B)
Andrew Williams, "Unconscious Influences" (S3)
Nicolene van den Berg, "Intermezzo" (S4)
Susan Barrett, "Headache" (S4; humor)
Susan Barrett, "A Time Before We Met" (S4)
Lynne Taylor, "Death Hand" (S5)
Nicolene van den Berg, "Flight to Space City" (S5)
Susan Barrett, "All That Remains Are Regrets" (S5; A-Ta)

Poetry:
Judith Proctor, "Messing About in a Spaceship"
Judith Proctor, "Olag Gan" (S2; based on Gunga Din)
Kelsey Adams, "Hymn to Him" (S3; from My Fair Lady) Susan Bennett, "Cally's Thoughts on the Way to Terminal" (S3)
Judith Proctor, "Og's Song" (S4; f, Nobody Loves Me...)
Jane Carnall, "A Blake's 7 Alphabet"

Art:
Lucia Casarella Moore color cover B, A, G
Val Westall back cover A
p. 54 A
p. 135 Og
p. 151 A
p. 159 Ta
Will Blight inside cover Scorpio
Gavin Miller p. 5 Liberator
p. 71 G
p. 123 B, J; illo for "Transition"
p. 125 B; illo for "I'm Not Blake"
p. 131 J
p. 137 Muller's android
Lynne Taylor p. 62 V
p. 149 Se
Kathryn Anderson p. 88 B
p. 95 illo for "Amagon"

(Italics denote poetry)
Messing about in a Spaceship by Judith Proctor
Messing about on a spaceship - a filk based on 'Messing About on the River
Series One
The Haunting of Haderon by Lillian Sheperd
A reprint of an old zine much beloved by Avon and Vila fans. Left to die in the desert, Avon and Vila struggle to survive. Lots of angst.
Seven Days to Destiny by Vega
One of the survivors of the Ortega relates events as Liberator takes them home to Destiny.
Economy Drive by D.C. Morris and S. Barrett
pure silliness as Blake decides that they need to cut back a little.
Series Two
Alter Ego by Richard Self
Olag Gan by Judith Proctor
a shameless rip off of Kipling's 'Gunga Din'
Wit and Wisdom of the Dead by Neil Faulkner
Travis has Lurgan's brain chip with the location of Star One. There's just one minor problem, the chip has Lurgan's personality encoded on it and Lurgan doesn't want to tell him anything. It's a bit difficult to threaten a dead man...
Series Three
Hymn To Him by Kelsey Adams
Avon, in true Professor Higgins' style ('My Fair Lady') asks why Blake can't be a bit more logical and reasonable.
Amagon by Judith Proctor
After Star One, Blake fall into the hands of the Amagons and finds himself hit with a severe culture shock as he realises that he isn't the only one with strong beliefs, but the Amagons don't believe in freedom, they believe in submission to the will of God.
Transition in Three Stages by Vega
After Star One, Jenna is separated from Blake and Liberator. She is determined to take control of her own life and escape the rebellion. This story is a prequel to 'Investments' in 'The Way Back' but may be read as an independent story.
I'm Not Blake by Loulou Harris
There's a man who sought treatment at a mental hospital shortly after Star One, but is he Blake, or isn't he?
Cally's thoughts by Susan Bennett
Cally's Thoughts on the way to Terminal - Cally reflects on Avon.
Unconscious Influences by Andrew Williams
To say too much about this one would spoil the story, but it involves Jenna and Blake after Star One.
Series Four
Intermezzo by Nicolene van den Berg
A short quiet story immediately after 'Terminal'.
Og's Song by Judith Proctor
A lament to the tune of 'Nobody Loves Me, Everybody Hates Me' by the creature voted least popular alien in almost every poll ever undertaken.
Headache by Susan Barrett
Totally tongue in cheek version of 'Headhunter'.
A Time Before We Met by Susan Barrett
After 'Orbit' Avon decides to break free and go back in time and space with Vila to Earth before they were ever arrested.
Series Five
Death Hand by Lynne Taylor
Short story in which Vila, fleeing Federation troops sees a familiar face.
Flight to Space City by Nicolene van den Berg
A long time after Blake's death, Avon and Jenna briefly meet. Time has changed both of them.
All That Remains Are Regrets by Susan Barrett
A story centered on Tarrant after Gauda Prime. Everyone except himself and Avon is dead and Tarrant has barely survived two years on a penal colony. Alone, lacking his fomer confidence, is there a way back for him?

Blake's 7 Alphabet by Jane Carnall
A is for Avon, etc.
Meet the Contributors - Who are these strange people who write and illustrate fanfic? The contributors tell you a little about themselves in real life.
Front cover Lucia Casarella Moore, Back cover Val Westall, Inside cover Will Blight,  other artwork by Gavin Miller, Lynne Taylor and Kathryn Andersen.
---
Star Three is a full size A4 zine with over 170 pages. Word count 135,000.
---