The Way Back
---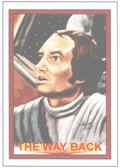 The Way Back is unusual in fanzines in that it was jointly edited by two fans on opposites sides of the Atlantic who to this day have never actually met each other. It came into being when Leigh Arnold, a former Blake's 7 zine editor, had a riding accident which put her in a coma for five months. When she came out of the coma, she was partly paralysed and suffering from severe memory loss. Jean Graham and I wanted to raise some money towards her medical expenses, and this zine was the result. It was published in two editions, quarto in the US and A4 from me. Both editions contain the same stories and the same artwork, the only minor differences are in the page layout.

Normerly, writers get a free copy of any zine they have material in, in the case of The Way Back, the writers very generously agreed to purchase their copies in order to maximise funds raised. My thanks to them, and also to the other fans who did the slave labour job of helping me with collating and binding.

Since the zine was first produced, Leigh has been making a steady recovery. Most of her memory has returned, she is able to walk again and use a computer, but she is still suffering from some right side paralysis. Her improvement has allowed her to leave the home for the brain-injured where she had been living to move in with her brother. Her aim is to be able to return to full time employment. Anyone who has read Desperado will know Leigh's strong love of horses and dogs, and pets are still an important part of her life.

There are too many stories in the zine for me to print extracts from all of them, so I'll just do a selection here.
---
Pre Series A
Series A
Riches C.K. Smith

Vocation Patti E. McClellan

Rosa Judith Proctor

Series B Series C Series D
Substitute Judith Seaman art - Kathryn Andersen

Orbit - The Final Alternative Neil Faulkner

Booty Neil Faulkner

Which if not Victory, is yet Revenge Chris Long art - Val Westall

Series E (Post Gauda Prime)
Committed Neil Faulkner

Rest In Peace Judith Proctor

Question Time Neil Faulkner

Anniversary Anna Richmond

Reminiscences JMR

Investments Vega 83
art - Lucia Casarella Moore

The Worst Blake's 7 Stories Never Written

Cover by Lucia Cassarella Moore
---
The Way back is an A4 Zine, 150 pages with a colour cover, 116,000 words, comb bound.
The Way Back is now out of print.
---
Last updated on 20th of September 2000.