Posted 23rd of September 2000
Brian Croucher in Lenin in Love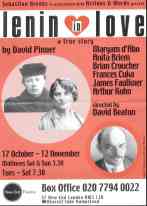 Brian Croucher will be appearing in Lenin in Love, playing Stalin.

The flyer (see right) gives the following blurb:
---
Sebastian Breaks in association with Actions & Words presents:
Lenin in Love
By David Pinner.

A love story brimming with ironic humour, strange friendships and irrational hatreds, Lenin in Love abounds with surprising hope and continuous fear. Focosing on Lenin's complex and often stormy relationship with his wife Krupskaya, his French mistress Inessa Armand, and their complex troika, it explores the romatic and often cruel paradoxes inherent in Lenin's frenzied personaility.

Details of the secret life of Lenin have only recently come to light with the opening of the Kremlin archives in the mid 1990's.

17 October to 12 November
Tuesday to Saturday evenings at 7.30 pm
Saturday and Sunday Matinees at 3.30 pm
Seats £15 concessions £12
17 and 18 October all seats £8
Box Office (020) 7794 0022.

New End Theatre, 27 New End, Hampstead, London NW3 1JD.
---