Model Travis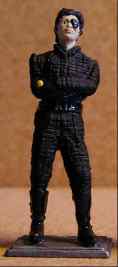 This model Travis is at 1/32 scale (about 2 inches high) white metal and normally comes unpainted and needing a little assembly.

This is a nice model, but it's not a beginner's job. There's a moderate amount of flash to be removed and the arms need fastening on, as does the base. The arms don't fit completely flush so some work with modelling putty is needed to smooth out the joins.

This is a white metal model, so the arms need attaching with superglue or similar. Ideally, the arms need fastening with a metal pin to make them more secure.

For those who want to paint the model, but don't want the hassle of assembling it, we offer the following: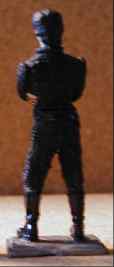 Assembled model - flash removed, arms pinned and glued, joins filled in with modelling putty and a matt black spray-paint undercoat applied. This costs an extra 3 pounds (it takes a lot longer to do than you might think). Assembled by Kelvin Proctor.

Fully painted model. Painted by Kelvin Proctor.
These models are temporarily unavailable - the maker is short of time.

The model is available from:

Imar Models as a kit only and as a kit, assembled and fully painted through Judith.

As a kit: Priced £8.30 UK and Europe, and £8.80 or $15 to the USA and Australia.

Assembled and matt black: Priced £11.30 UK and Europe, and £11.80 or $21 to the USA and Australia.

The kit and unpainted models are the same as for Avon and Blake, but the painted model is cheaper as most of it is Black.

Fully painted: Priced £13.80 UK and Europe, and £14.30 or $25 to the USA and Australia.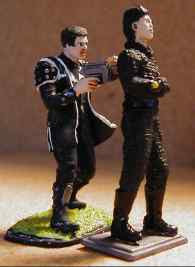 Review By Julia Jones
One of the extra-curricular activities on the Nottingham theatre trip was the waving around of the first Travis figure to come off the painting production line. I liked it so much that I bought it...

I can't comment on the unassembled model, as I haven't seen one, but am told it's another two parter with the base needing to be pinned and glued to the figure itself. The assembled and painted figure is another nice little piece, although unfortunately the facial resemblance to the character is poor on this one, unlike the Blake and Avon figures. This is more than made up for by the miniature's arrogant posture, which is vintage Travis. The figure is quite clearly Travis 2, although those with some modelling experience should be able to convert it to Travis 1 with careful use of putty.

The costume is almost entirely black, of course, but Kelvin's done a nice job on picking out matt and gloss details on the black, which gives it interest and makes it more realistic looking. The chest insignia and barley sugar on the finger are present and correct. The new painting technique being used on the face gives excellent results.

Recommended for those who collect miniatures.
---
Last updated on 24th of September 2001.