Puppeteer
by xBryn Lantry
Illustrated by Val Westall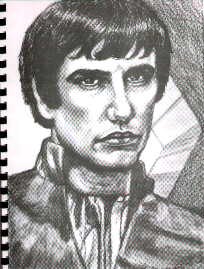 A 40,000 word Avon/Blake slash zine
---
Avon's bored. Stuck on the world of Kasir Kadin while Blake tries to contact local dissidents, he passes his time by analysing Blake. When Blake inadvertently lets slip that he's gay, Avon shifts from analysis to manipulation. He sees Blake as someone who might be able to fill his own emotional needs and he's quite prepared to manipulate Blake to the edge of a breakdown in order to get what he wants.
This is a fairly bleak story dealing with complex characters. It's a story that requires you to think about what is happening. What does Blake really want? Is Avon telling the truth? It's probably true to say that "Puppeteer" is a love it or hate it zine. It has been variously described as: weird, the best Blake's 7 slash story ever, brilliant, incomprehensible, etc. Personally speaking, I love it, which is why I made the decision to publish a new edition.
The zine contains sex scenes. They are not particularly explicit, nor are they the main focus of the story.
Extract from the Story This does not contain any explicit material.
"Puppeteer" has been printed twice before. A draft version of the story appeared in Emanuelle. The final edition of the story was published in Homosapien Too. The only change between the version in Homosapien Too and this one is the addition of artwork drawn especially for the story.
"Puppeteer" has been produced from a laser printed original. The layout is double column A4, and the cover is printed gloss card with a portrait of Avon by Val Westall. The internal pictures have been drawn to illustrate the story, but are not explicit. The zine is comb bound.
All orders for this zine must include a statment that you are of legal age.
---
---
Last updated on 21st of December 2007.