The Long Way Back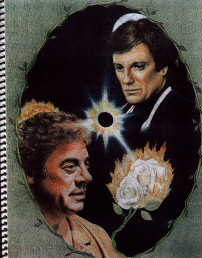 By Melody Clark.

The one that I know several of you have been waiting for.

The sequel to Melody Clark's 'The Last Best Hope'.

Heavily revised from its original publication, this is quite simply one of the best Blake/Avon stories ever. It's unashamedly about love. It manages love without soppiness and mixes it with a complex plot in which the fate of everything Blake and Avon have ever worked for is held in the balance. Until they can discover the truth that lies hidden in their past, they cannot hope to save their future.

Blake's Prelude - the first chapter
---
This isn't just for Avon/Blake fans though. Vila has a major role to play in this story. With Soolin's help, he has to find strengths that he has hidden away within himself for a very long time.

Tarrant has his own battles to fight. Tortured by the enemy, he is forced to do something hateful to his sense of honour.

There's a beautiful colour cover of Avon and Blake which is taken from the original edition, and the interior art is by Val Westall. No nudes.

I do not recommend reading this novel unless you have read The Last Best Hope. It draws on many elements from the earlier book, and even the glorious sex scenes are diminished if you don't fully understand what has gone before.

This zine is not for sale to anyone under the age of 18 and an age statement is required with your order.
---