The Quibell Abduction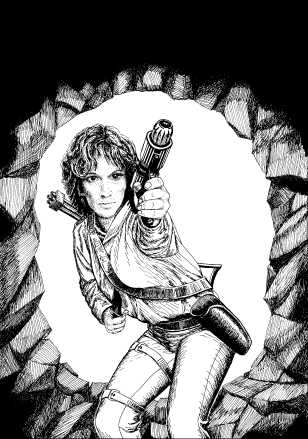 by Lillian Shepherd.

Review by Julia Jones

This zine is that rarity, a B7 story that's genuine science fiction. It's also one of the best Cally stories ever written, and if your Cally is the warrior who confronted Blake on Cygnus Alpha, you'll want this zine.

Cally and Avon are undercover on a Federation planet, purchasing manufactured-to-order parts needed for the Liberator, when Avon is kidnapped. Cally has to track him down and rescue him, without breaking their cover. The job's not finished when she retrieves Avon, because it was more than a simple kidnapping. The planet is in terrible danger...

Lillian Shepherd has created a genuinely alien species, plus a picture of a galaxy that holds more than humans. There's also an interesting backstory for the Federation, and two well-drawn Federation officers as sympathetic original characters. It all goes together to make a story that keeps you turning the pages. I know, because I did the scanning of the original 1980 edition to get an electronic file for the second edition, and ended up having to read the story properly before finishing correcting the errors.

Highly recommended.
---
Back up to The Quibell Abduction main page
Last updated on 04th of May 2004.