Sevencyclopaedia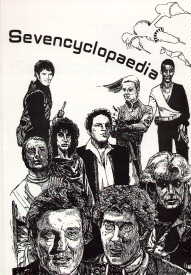 the ultimate Blake's 7 reference book!

by Neil Faulkner
cover by Gavin Miller
editor Judith Proctor


Every person, planet, gadget, etc. ever mentioned in Blake's 7. Everything from 'AA Security Clearance' to ZVP ('Zerok Vegetable Processing'). If it was seen on screen then it's in the Sevencyclopaedia. If you've looked for something in the Programme Guide and not found it, the odds are high that you'll find it here.

From the serious - definition of Roche's Limit - to the silly - which episodes were pot plants seen in?

A complete biography of every known fact of each character's background. Bodycounts - who killed the most people? Who didn't kill anyone? Significant fights, occasions when captured, notable rescues, injuries, etc.

Aliens - Andromedans, phibians, links, carnivorous plants, programmed guardians, sand, etc.

What have Mark Twain, the Duke of Wellington and Mme Roland (who was executed in the French Revolution) all got in common? They were all quoted by characters in the series. But do you know by who, and where?

How come Tommy Steele gets an entry? Read it and find out!

Hardware - force fields, magnetic probe, hull sensors, space ships, weapons, micro power cells, recycling machine, insulated saw, homing devices, locks and much, much more.

Places where the characters got it wrong but the intrepid compiler has tracked down the correct answer - who was Blake really referring to when he said Lord Jeffrey Ashley had used smallpox infected blankets as germ warfare?

Bird song - Neil is a keen ornithologist - if you want to know what species of birds were introduced to various alien planets, they are all lovingly identified by appearance and song!

The entire Sevencyclopaedia is online, but it will take you quite a long time to browse.

The zine is full size with black and white, gloss card covers and a glue binding with a taped spine. The layout is double column. 117,000 words, 146 pages, packed with information. Please note that the zine version does not have all the pictures and that the recent additional entries by Murray Smith are also not included.
---
Last updated on 12th of March 2007.