Kevin's report
Oh well, my efforts were pretty awful anyway! Here's my short(ish!) review of the con, please bear in mid that I am not a very good writer!
Friday
On Friday, I made my way down to Ashford, Kent by train, and arrived at the hotel just before 9pm. The hotel is big and plush and I was impressed. I was checked into the hotel by a young lady by the name of Dayna (yes, really!). Once I had found my room and registered I began to explore. The hotel had been invaded by people in costume, Avons, at least one Jenna, a couple of Klingons, a couple in 59th Wildcards uniform (from Space: Above and Beyond), Londo and Cartagia from Babylon 5 and of course, Servalan. I was even more impressed!

Throughout the weekend, the Drazi war game was run. The attendees were divided into two teams, green and purple. each team had to collect points by winning the various contests. At the closing ceremony all points were added up and a winner declared! Also running was campaigning for the Ruler of the Universe elections, with each candidate having flyers strategically placed throughout the hotel.

I'd missed the opening ceremony (typical!) so I hit the bar for a quickie, then I decided to try out some filking (this is singing re-written versions of various folk/pop songs). Poking my head around the filking room revealed Judith Proctor and a young lady called Rachel ( correct me if I'm wrong!). There were 4 people there so I decided to swell the numbers. We were treated to Judith's accordion playing and Rachel's violin, and good they were, well better than my singing at least!

Judith's voice gave out and we retired to the bar for a while. I got talking to a man from Bedford who had been filking with us, he is mainly into Dr. Who.
Saturday
The first thing I did on Saturday was miss breakfast (typical!) so I went next door to Sainsbury's where the staff were asleep. On returning, I caught the tail end of a panel with Brian Croucher and David Walsh which was interesting. I was wearing my teleport bracelet and Brian said "He'll be going up soon!" The discussion was supposed to be about Servalan and Travis but it had obviously strayed onto other subjects, but was interesting nonetheless.

At midday I went down to the main hall for the Blake's Seven blooper reel, introduced by Sheelagh Wells. This was very funny and included the infamous "Avon's teddy" incident.
When the video finished Sheelagh showed us some of the late Vere Lorimmer's photographs and a baby Orac loaned by Mary Ridge, and shared some of her memories of the show.
I retired to the bar for a while after this, then at 2pm I went back to the main hall to see Brian Croucher again, this time interviewed by Joe Nazzaro, talking about his career as an actor.
After Brian, I wandered upstairs and into a discussion by Sheelagh Wells, talking about her long career in television make-up, this was a fascinating talk, Sheelagh obviously loves her work and loves talking about it. She is a pleasure to listen to. She told us how some of the make-up can be made from household ingredients, for instance I didn't know stage blood can be made from golden syrup and food colouring.
In the main hall foyer was a life-size cut out of Gareth Thomas, who couldn't attend as he was working. He looked very effective, with a pint of beer in his hand. This was later abducted by the green team in an attempt to gain extra points in the Drazi war.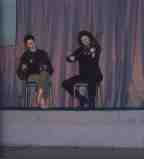 The fancy dress competition and cabaret, were very entertaining. Cabaret acts included Judith Proctor on accordion with Rachel on violin, an interesting interpretation of the song " Don't marry her, have me", about a battle of wills amongst the Liberator's crew, a look behind the scenes at the BBC and of course, Servalan. That woman gets everywhere!
The next item in the hall was the disco, and not being into discos I headed off to the filking room. This time we had a larger filk session with about ten people. The Tarrant Nostra folks popped in for a while, hot from their cabaret act. After the filking, I watched some video then went to bed.
Sunday
Sunday dawned bright and clear, and I woke up in time for breakfast (yeah!). I stumbled into a talk by Joe Nazzaro about Babylon 5 spin-off, Crusade. We were shown some slides of the new sets and uniforms, and some inside details from the show. I checked out of the hotel, then went to the "Sex in Space" panel, where we discussed the relationships between characters, who they may have slept with, and whether we liked our characters to have sex on or off screen.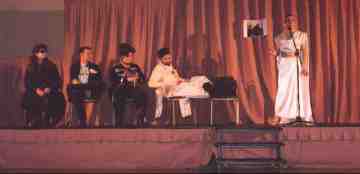 Next door in the main hall was the culmination of the Ruler of the Universe contest. The candidates were Servalan, Cartagia, Londo Molari, The Sandman cunningly disguised as Steve Kilbane, and a late entry from Buck Rogers. After giving their opening statements, the panel took questions from the floor. Buck Rogers pledged to introduce a long hair tax, Servalan promised to give everyone Pylene 50. When asked about genetically modified food, Londo said there is nothing wrong with Centauri food which is better than that stuff the Narns eat. The Sandman didn't seem to have a policy on anything. The questions finished and the candidates made their final statements. The vote was taken, and Servalan won by a narrow margin. She was declared Ruler of the Universe until her death.
After the auction, conducted by Brian Croucher, came the closing ceremony. The end of the Drazi war game was declared with the purple side winning (booooo!), the indoor cricket game (don't ask, please!) was won by Blake's XI. Servalan announced her marriage to Londo Molari, to help her carry out her duties as Ruler of the Universe.
I went upstairs to watch Fireball XL5 (the Triads) for half an hour, noting its similarity to Blake's Seven episode Orbit.
While I was waiting for my taxi to the station, Brian Croucher said goodbye to me and hoped he'd see me at the next one. He shook my hand before he left. He really is a gent, not at all like Travis!
I found this convention interesting because it had been designed to include the fans of two shows, Blake's Seven and Babylon Five, and unite them in sharing their appreciation of both. I also enjoyed the way the attendees were invited to participate in the events. It was an interactive experience.
---
Back to the other Redemption Reports